Wheat alternatives to combat the food crisis
As war in Ukraine strangles global wheat supplies and extreme weather hits harvests, hardy and climate-resilient wild and ancient grains could bring greater food security.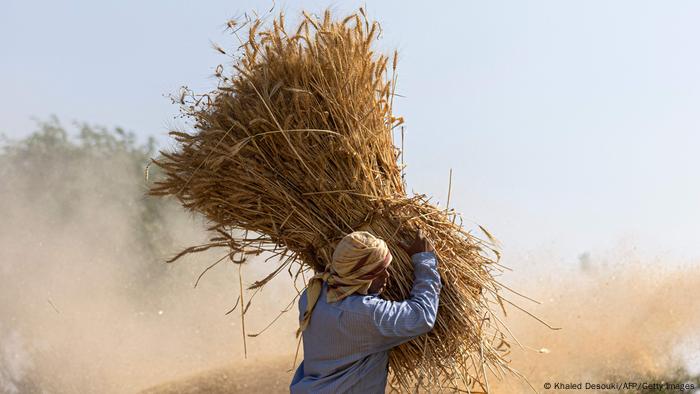 Egypt grows some of its own wheat but is heavily dependent on imports, much of which come from Ukraine
The war in Ukraine has highlighted our dependence, not only on Russian fossil fuels, but also on the massive wheat harvests that flow from the region.
Russia and Ukraine are the world's first and fifth top wheat exporters respectively and together supply well over 20% of the staple globally.
Much ends up in the Middle East and Africa, including in Egypt, the world's top wheat importer that sources around 80% of its grain from Russia and Ukraine. The country is subsidizing bread prices as costs skyrocket and supplies dwindle.
The grain shortage sparked by the war is also exacerbating an "unprecedented food emergency" this year in the Sahel and West Africa region, according to the UN's World Food Program. Kenya, Somalia, and much of Ethiopia are at risk of acute food insecurity.
Climate change, including an extended drought now ravaging western Africa, is making food scarcity worse. Wheat yields could drop by 7% for every degree Celsius of global warming, especially due to decreasing rainfall, experts warned last week.
To combat food insecurity, countries like Egypt are trying to bolster food independence by expanding domestic production. But wheat is now also being planted in the Egyptian desert, even though that will demand more fertilizers and scarce water resources.
Common wheat has a shallow root system and is, therefore, more susceptible to drought. But providing around 20% of calories consumed by humans, this dominant hybrid grain is so popular because it is high yielding, and creates a white flour that can be adapted endlessly into processed foods.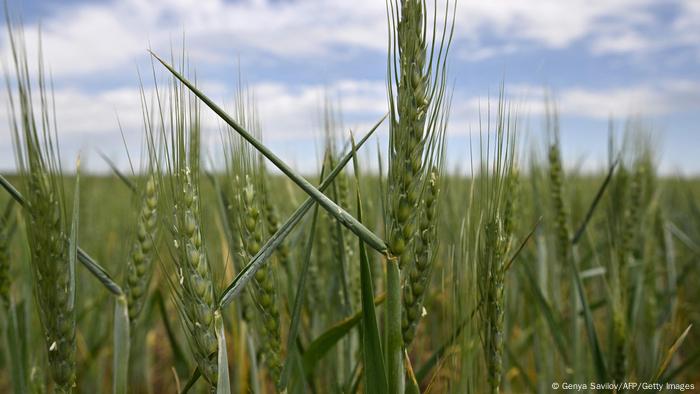 Much Ukrainian wheat can't be exported due to Russia's blockade of its Black Sea ports
Wheat's vulnerability to declining supply due to conflict and climate change has nonetheless spurred attempts to produce a greater diversity of resilient and sustainable grains that can be grown locally.
These include ancient or "heritage" species that are more climate adaptable and able to thrive in diverse conditions.
Here are four alternative grains that could help reduce our wheat dependence.
Einkorn
Before the rise of so-called common wheat that is found in myriad forms on supermarket shelves around the globe, dozens of so-called "heritage" grains were grown in diverse locations and soil and weather conditions.
Einkorn is one such resilient heritage grain that is an alternative to the wheat used to bake most of the world's bread.
Dating back to neolithic times, einkorn is known as the "original wheat." It is adaptable to diverse terrains and more resistant to disease than modern wheat. It also has 30% more protein, 15% less starch and less gluten than common commercial wheat. The grain is said to give baked goods a distinctly nutty flavor.
"Einkorn is unique because it has twice the minerals of other types of wheat, that's crucial for nutrition," said Friedrich Longin, an agricultural scientist at the University of Hohenheim in southern Germany. But while twice as nutritious as modern wheat, it has around half the yield.
Einkorn is today grown in relatively small quantities in Austria, Germany and regions of Italy, Hungary and France, but it has potential to be sown more widely due to its adaptability to poor and marginal soils. The ancient grain also has "exceptional disease resistance" compared to common wheat, according toone recent study.
Wild emmer
Ancient "emmer" wheat is another heritage grain that could make a comeback in the face of the current grain crisis. With a higher yield than Einkorn, Roman Emperor Julius Caesar was a fan of the grain and ordered it to be grown throughout the Roman empire. Today, its key benefits are high climate resilience and resistance to disease.
One studycarried out over 28 years in Israel showed that breeds of wild emmer that experienced a temperature rise of two degrees over this period mutated to resist the changing climate.
The researchers concluded that more genetically diverse species of high fiber emmer were "the best genetic hope" for improving on modern wheat strains that are vulnerable to climate change and disease.
While emmer was once integral to bread-making in ancient Rome, today emmer seeds are relatively scarce. Flour from the grain grown in mountainous regions across Europe is again being used, however, for baking in Switzerland and Italy, where it is also made into pasta.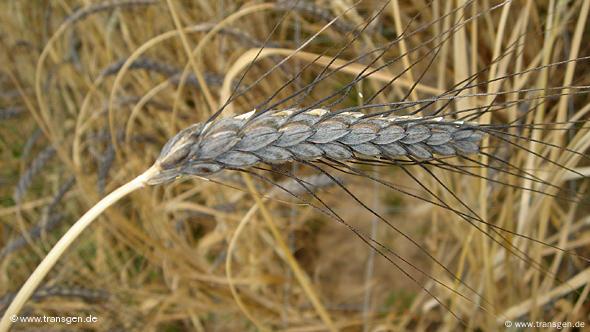 Emmer is resilient to climate change and disease
Kernza
One problem with common wheat is that it's seasonal, meaning the plant dies after harvest and has to be replanted every year. It also has a shallow root system that is not super effective at sequestering carbon deep underground.
As an antidote, a new perennial grain called Kernza has been developed by The Land Institute, a  sustainable agriculture NGO based in the US state of Kansas.
A derivative of wheat grass, Kernza's roots grow to 10 feet (3 meters), meaning the plant can sequester a lot more carbon from the air. Its long roots also maintain soil health by resisting erosion.
Perennial growth helps to build more biodiverse and drought-resistant soil, while also saving on the energy and resources required for annual replanting.
A potential alternative? Lee DeHaan, lead scientist for wheatgrass at the Land Institute, inspects some Kernza grain
The hybrid grain that has been developed over decades is already being utilized by bakers, chefs, and brewers across the US and Canada.
The Land Institute is calling Kernza a "change for the future, rooted in inherently regenerative, climate-smart agriculture."
4,000 acres of the wheat were grown across the US and Canada in 2021, up from 500 acres in 2019. In midst of the global grain crisis, that number could be set to grow significantly.
Millet
Millet, a staple for hundreds of millions of people in Asia and Africa, also has high climate resilience, a short maturity period and low carbon emissions, according to Robert Onyeneke, an agricultural economist at the Alex Ekwueme Federal University in Nigeria.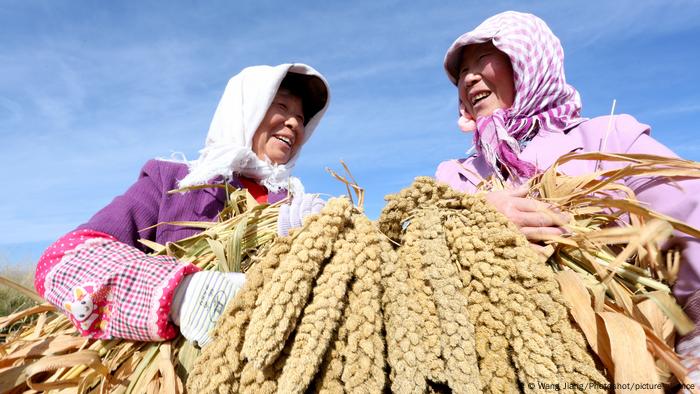 Farmers carry harvested millet in northwest China's Gansu Province
The grain, which has many varieties, is adaptable to heat and drought, requires far less water than wheat, rice or corn, and can be grown around the world, including on relatively poor soils.
The importance of the grain, which is little consumed in the West, was underlined when the UN declared 2023 International Year of Millets. With cultivation declining in many countries, the UN said "their potential to address climate change and food security is not being realized in full."
Edited by Tamsin Walker 
source DW 
Nami's Magic Wand: Restructuring Revenue Collection in Nigeria
By Abdullahi Haruna
Revenue generation is very critical to the survival of a country or otherwise all over the world. It is non-debatable that most poor countries of the world are poor because they have a problem of revenue.
To fix the problem of revenue generation in most developing and emerging markets, the national and sub-national governments of such countries pay more than a passing interest in the operations and management of the countries' internal or inland revenue bureaus/services/boards which supervise revenue collection, aside from placing other programmes and policies to shore up their revenue base.
In Nigeria, the Federal Inland Revenue Service(FIRS) is the body statutorily saddled with the responsibility of managing the nation's revenue collection. Established in 1943, the service became autonomous via the passing of the FIRS (Establishment) Act 13 of 2007. The core functions of the service are to assess, collect, remit, and account for the federation's taxes and revenues.
Over the years, the FIRS has undergone several transformations under various leadership and management. However, its phase between 2020 and 2022 has been of striking relevance and importance given the declarations of unprecedented revenue collected on behalf of the federal government by the service.
According to multiple industry experts familiar with the issues, the turnaround in the revenue collection credential of the service is substantially due to the efforts of the leadership headed by Muhammad Nami, its Executive Chairman.
It did not, therefore, come as a surprise to a lot of people when the Federal Inland Revenue Service (FIRS) announced on Monday that it collected over N10 trillion in tax revenue in the year 2022, the highest tax collection ever recorded in its history. The Service declared this in its "FIRS 2022 Performance Update," report signed by its Executive Chairman, Mr Nami, after his briefing with President Muhammadu Buhari.
It is the first time the FIRS would cross the 10-trillion Naira mark in tax revenue collection after several decades of existence. And that's a milestone in a struggling economy like Nigeria's. In the Performance Update made known to the public, the service said it collected a total of N10.1 trillion in both oil (N4.09 trillion) and non-oil (N5.96 trillion) revenues as against a target of N10.44 trillion in 2022.
The report further noted that Companies' Income Tax contributed N2.83 trillion; Value Added Tax N2.51 trillion; Electronic Money Transfer Levy N125.67 billion and Earmarked Taxes N353.69 billion while non-oil taxes contributed 59% of the total collection in the year, oil tax collection stood at 41% of the total collection. One interesting takeaway from this is that the non-oil sector is beginning to live up to expectations especially now that there are so many uncertainties in the global oil market.
The Performance Update Report further clarified that included in the total revenue sum is the sum of N146.27 billion which is the total value of certificates issued by the Service to private investors and NNPC for road infrastructure under the Road Infrastructure Development Refurbishment Investment Tax Credit Scheme created by Executive Order No. 007 of 2019.
The report also stated that the N10.1 trillion is exclusive of tax waived on account of various tax incentives granted under the respective laws, which amounted to N1,805,040,163,008.
HOW THE FEAT WAS ACHIEVED
Like the saying that nothing good comes easy, finance specialists, especially in the public sector, say the FIRS could not have achieved the feat without putting in place some reforms and mechanisms to actualise the feat. Essentially, the deployment of technology through the instrumentality of the automation of the service's administrative and operational processes in tax collection played a crucial role in the massive turnover.
True to the experts' assertion, while providing perspective to the unprecedented tax collection, the service noted in the performance report that the Muhammad Nami-led management upon assumption of office came up with a four-point focus, namely: administrative and operational restructuring; making the service customer-focused; creating a data-centric institution; and improving its stakeholder relations. It further noted that throughout 2020 to 2022, the management had introduced reforms bordering around these four-point focuses which were producing results.
"The reforms introduced at different times from 2020 are gradually yielding fruits. By the close of 2022, the Service had fully restructured the administration of the Service for maximum efficiency and achieved internal cohesion such that all functional units are working in unison towards the achievement of set goals.
"As a result of a conducive environment created for staff, officers of the Service are pulling their weight on the global stage with international recognitions and awards;
"The Service had also automated most of the administrative and operational processes. A major leap was the full deployment of the TaxPro Max for end-to-end administration of taxes in June 2021. The module for the automated TCC went live 1st January 2023 while taxpayers had already downloaded over 1,000 TCCs this year without having to visit FIRS office," the report read.
The report also noted that the Service had operationalised its data mining and analysis system thereby allowing for data-backed taxpayer profiling. This is particularly good as taxpayers' metrics and analytics will always assist the Service to know what it's getting from each and every tax-paying entity based on credible data gathering and assessment.
Other reforms the Service introduced in the period under review focused on the detoxification of the tax environment by ridding it of mutual mistrust, negative tax morale, and tax evasion, through effective taxpayer education, open engagement with stakeholders, and improved services. It noted that it is courtesy of these reforms, framed around the four-focal points that the Service was able to achieve the collection.
The man of the moment, Mr Nami, while commenting on the N10.1 trillion record tax collection achieved under his leadership, stated that it was made possible through "dogged implementation of strategic reforms over the past two years; a renewed commitment by officers of the Service, accompanied with a boosted morale; as well as the innovative deployment of technology for automation of both tax administration and operational processes.
"This collection was possible through collaboration with our stakeholders, from our colleagues at the Executive branch of government to the members of the judiciary, to our brothers and sisters at the National Assembly, as well as the tax advisory committee, professional bodies, unions, and most crucially our taxpayers."
AND THIS IS NOT THE FIRST TIME
2022 is not the first year the FIRS made a giant leap in revenue collection. In fact, 2022 is the second consecutive year that the Service will be recording unprecedented tax collection. In 2021, the Service achieved a record tax collection of N6.405 trillion, over a hundred percent of its collection target for the year, as well as the first time that the Service will cross the 6–trillion mark.
In 2022, building on the success of the preceding year, the Service achieved a record collection of N10.1 trillion, being over 96% of its collection target for the year, and the first time the Service will cross the 10–trillion mark. This collection represents an over one hundred percent leap from the tax collected by the Service in 2020—the first year of the current management of the Service.
PROJECTIONS FOR 2023
As for 2023, Mr Nami stated that the Service would build on the current reforms, achieve full automation and continue to establish a resilient Service that would continue to provide sustainable tax revenue to fund the government.
The government truly needs all it can to generate revenue this year and borrow less because of the burgeoning debt profile of the country, which has become a source of worrying concern to Nigerians. There's no whiff of doubt that the FIRS will double down on revenue collection to help the government meet its revenue target. "We intend to maintain, and even improve on the momentum in 2023," Mr Nami stated.
"We have peaked, but this is not certainly our peak. In fact, my hope is that this would be the least sum the Service would ever collect going forward. Our goal is to identify more areas where we can improve on, in the delivery and efficiency of our collection; and plug loopholes, while deploying innovative reforms in data and artificial intelligence.
"Ultimately, we believe that the FIRS can shoulder the responsibility of providing revenue needed for the governments across the Federation to cater for the needs of the Nigerian people through taxes.
"This is feasible once we get the much-desired support from the three tiers and arms of government, as well as all stakeholders."
CHALLENGES
Perhaps the greatest challenge the FIRS may face in its quest to rake in more revenue for the government in 2023 will be a seeming lack of cooperation from taxpayers who are facing existential threats from galloping inflation, insecurity, increasing lending rates and the rising cost of power, among others.
The perceived absence of transparency and lack of accountability in the management of the country's revenue is also a snag. Although FIRS is not to blame for this, the taxpayers' understanding is that it is the body that collects the taxes for the country. Going forward, the government has to be more accountable to the people and deploy the revenue judiciously to fund critical infrastructures, improve the standard of living of Nigerians, provide jobs, create access to quality healthcare, e.t.c.
Of course, FIRS also needs to block more leakages in its operations and loopholes which could be leveraged by unscrupulous staff and taxpayers to game the system and thus criminally divert what should accrue into the Service's purse into their personal accounts or that of their allies. This is where technology, as hinted by the Executive Chairman, will help minimise waste and potential for fraud to the bare minimum.
APPRECIATION
The FIRS's feat in the 10.1 trillion Naira tax collection did not come alone via the Service's solo efforts. It received multispectral collaboration and support from the political leadership of the country.
In the performance update report, FIRS appreciated President Muhammadu Buhari for his support, as well as the Minister of Finance, Budget and National Planning, Mrs Zainab Ahmed, the Minister of State, Mr Clem Agba, and the National Assembly.
Importantly, the service commended all patriotic taxpayers who paid their taxes correctly, stakeholders for their support, and officers of the Service for their dedication to duty.
Prof. Adamu Abubakar Gwarzo tasks Journalists on National Unity, Objective Reportage 
The Founder and Chairman Governing Council of Maryam Abacha American University of Nigeria (MAAUN), Kano, Prof. Adamu Abubakar Gwarzo has charged Journalists in the country to always look beyond religious, ethnic and regional affiliation while discharging their professional duties.
Prof. Gwarzo gave the charge on Wednesday, 25th January, 2023 when the national leaders of the Nigeria Union of Journalists (NUJ) led by its National President, Chief Chris Isiguzo paid him a courtesy visit at the University Campus, Hotoro GRA Kano.
He said the call was necessary in view of the fact that Nigeria is a big country with religious and cultural diversity.
"The profession really needs people with a diplomatic mind because Nigeria is a big country with different people of cultural backgrounds.
"Sometimes the problem of Nigeria is religion or tribalism because if we're having that thinking, this country will not move forward.
"So, we have to go beyond all these to enable the country to move forward and attain the much needed socio-economic and political development," he said.
Prof. Gwarzo, who was the President of Protection of Journalists Rights in Africa, called on journalists to always demonstrate utmost objectivity in their reportage in view of the critical role they play in promoting national unity.
While urging journalists to be bilingual to enable them compete internationally, the former President of Protection of Journalists Rights in Africa, said the University would collaborate with the NUJ with a view to internationalizing the Union for the benefit of its members.
Earlier, the NUJ President, Chief Chris Isiguzo, who lauded Prof Gwarzo for his ingenuity, said the union would look for areas of collaboration with MAAUN.
He added that the International Institute of Journalism (IIJ) would partner with the University so that students of the Institute could have the opportunity of benefitting from the past experiences of lecturers of University.
The NUJ President, who was accompanied by the National secretary, Shu'aibu Usman Leman, Kano State Council chairman, Abbas Ibrahim and NUJ Kano State Correspondent Chapel Chairman, Ibrahim Garba Shu'aibu among others were taken round some places in the University.
The places include the newly constructed Prof. Abubakar Adamu Rasheed Twin-Lecture Theatre, Ibrahim Usman Yakasai Sports Complex, School of Nursing Sciences, School of Computing, School of Health Sciences and School of Social and Management Sciences.
Among the top management staff of the University present at the occasion include the Vice President Administration, Dr. Habib Awais Abubakar, Vice President Campus Life, Dr. Hamza Garba and some staff members of the Corporate Communication and Protocol Unit of the University.
Adamawa LP Guber Candidate Fingers Fintiri Of Double Standard Against Atiku, Obi
By Tom Garba, Yola
The Adamawa State Gubernatorial candidate of the Labor Party (LP) Mallam Umar Mustapha Madawaki (Otumba) has alleged that the Governor of Adamawa State, Rt Hon Ahmadu Umaru Fintiri is playing a double game with PDP alongside his party.
According to Otumba, Fintiri is jittery with the growing popularity of his party and the general acceptability of his candidature.
He said LP is becoming a phenomenon that has forced Fintiri into a double sworded game, rambling between his party's Presidential candidate, Peter Obi's name, and the PDP presidential candidate, Alhaji Atiku Abubakar.
He alleged that Governor Ahmadu has been telling Christians to vote for Obi at the presidential polls and vote for him at governorship poll, says a different thing at his campaign rallies where he has never mentioned Obi's name.
"It is unfortunate to know that he came up with a certain political paradigm and abandoned his political party presidential aspirant, Alhaji Atiku Abubakar
Otumba said Fintiri has promised to deliver Adamawa state to the Labour party knowing full well he does not have that capacity.
"I'm assuring you he is only being mischievous with the propaganda that is going to work for Peter Obi, campaigning to Christians in the state to vote for all elective positions in PDP and vote not the PDP Presidential candidate, Atiku.
"All through his campaign trend Governor Fintiri has never mentioned Obi's name even once. Also, he has never said in all his campaign trend that people should not vote for Atiku. Is that not a mischief?
"The Governor is just playing a double sworded game. He will tell Obi's followers is working for him. When he goes to the other side of Atiku, he will tell them that anybody that will not vote for Atiku doesn't need the person's vote.
"He has no principles, his only political ideology is to come back to power. Knowing fully well that he has not done anything for Adamawa state that will warrant him a second term.
"I, therefore want to re-emphasize this that it is sacrosanct, it is a solid fact that the labor party has come to stay, it is a solid fact a revolution is in the oven in Nigeria. It is a solid fact we will win the presidential and the gubernatorial election." Otumba said
Umar accused the Governor of delving into his party affairs on his own thinking is going to spoil the chances of LP to form the next Government, not knowing the party has a coherent structure, and consolidated all his Local Government structure to a giant of winning the election.
Otumba during an interview with Our correspondent in Yola said: "First and foremost, we are a coherent political party and we were up and doing. e Everybody in Adamawa knows the Labour party is the party to beat.
"We are a political party like any other, we are not devoid of internal wrangling. In our case, it emanated from incursion made into our party by the Governor of Adamawa state."
He accused the Chairman of Adamawa State Christian Association of Nigeria (CAN), Bishop Stephen Dami Mamza, and the EYN President Reverend Joel Billy of hiding under the collar of religion to play tribal politics for their Brother, the Governor.
"Before now Governor Ahmadu has the feelings and beliefs that his kinsmen, Bishop Stephen Dami Mamza who happened to be the CAN chairman of Adamawa state, and the EYN President, Billy are the deciding leaders of all the Christians in Adamawa State.
"We heard them endorsing Gov Fintiri. But why are they endorsing him? The Governorship Candidate of YPP is a Christian, why can't they support him? Why are they supporting a Muslim? It is the handy work of Dami Mamza who is now playing tribal politics in the name of religion. I can tell you in confidence there are a good number of CAN officials who are not with him because is using his political pranks of ethnic politics to favor Fintiri, his Brother in the name of religion.
"He did that in 2019 and got away with it now the Christians are better Enlightened with his tribal politics in the name of religion.
"He sees nothing good in any aspirant except Fintiri because is his tribal Man. Leadership is God-giving, you wouldn't know who God anointed for that, but at least he should hide his interest. If it turns out that Fintiri didn't emerge as the winner how are they going to work with the other person they rejected? There is no wisdom and common sense to what they are doing.
He however said Adamawa Christians are better informed now that the endorsement of Fintiri by Dami and Billy is not all about Christianity, but an ethnic agenda to make sure their Brother emerge as the next Governor of the state for the second term.
"The emergence of the Labor party has falsified that assertion because Christians in Adamawa adopted the party as their own. Fintiri realizes this is a danger that will throw him out of the Government House.
"Unfortunately for the Governor and the two Christian leaders that the Christians in Adamawa are becoming more aware that they have felt into a trap and the best option for them is to embrace the Labor party and did discard APC and PDP.
" I'm glad that the Christian community is beginning to realize this, and we will make them fully understand what Governor Ahmadu and his cohorts are planning to do against the people of Adamawa state," Otumba stated
He revealed that Fintiri has been fighting him tooth and nail since he got the LP gubernatorial ticket, he realizes how the wind of change is blowing against him.
Otumba in his words reiterated that:
"Ahmadu is the one fueling crisis in our party because is jittery about the party's popularity and is what will cost him his office in the coming election.
"He was neck bent to scuttle my ticket and failed, he was adamant to remove my campaign office from where it's, was not possible. Recently he ordered my posters and billboard be destroyed because is only the labor party that has became his political nightmare.
"Because is a sitting Governor he was able to convince some national party officials that are going to deliver Adamawa state to Peter Obi
"He has been using his adviser on security, General Sinabiji to fight me, to the extent of going to the headquarters of the Labor party in Abuja and furnished it. I can bet you the retired general doesn't have the resources to furnish that office. We knew someone is behind, and no one else than the Governor.
"Why didn't he furnish the PDP headquarters in Abuja or the PDP office in his state? He is trying to work himself into the hierarchy of the Labor Party in his effort to fight me.
"We have a whole lot of books on General Sinabiji. He has gone to the extent of setting up a labor office in Numan, a place believed to be a PDP stronghold, they are really late on this."
Despite the glaring massive infrastructural development accrued to the government of Fintiri, Otumba washed it down by saying that:
"He has bedeviled the state with huge loans that we can't pay. There is hardly any development in this state. Students are suffering. The Youth have no job, the education system is rotten, and the health sector is in dire need of services. Pensioners are just suffering from wants and poverty. He only pays pensions to those he has chosen to be paid. With all this baggage, he knows is going nowhere and that is why is coming with these evil machinations.
The Labor Party candidate draws the attention of all people, especially the Christians in the state to understand that:
"If you vote Obi, and you don't give him senators, you don't give him members of the house of representatives. Is going there as a minute president with APC, and PDP on his flanks and any action or inaction they don't want is an impeachable offense. Much as we want to vote for Obi, we must also thrive to vote for his Governors, Senators.
"A labor vote must be a vote for everyone contesting in the Labor party. PDP man can not as ask us to vote for Obi and abandon others contesting, it's not done anywhere like that.
Otumba has confidence that is going to be the next Governor of Adamawa state despite the strong presence of APC, PDP, SDP, and other political parties.
"I have a great number of the Christian community with me. Those who have realized that Governor Fintiri and Dami Mamza are playing the ethnic game. It is purely a tribal game it's not even a Christian game they are playing because Fintiri is a Muslim.
"I have a great number of PDP and APC adherents who will vote for me not to talk of Labour party adherents. Who do you think will command the votes? Of course, it' is me.
"We have all the 21 Local Government Areas intact, we are coherent. We are getting our people back on stage. We have concluded arrangements to begin our campaign soon. I'm sure by the special grace of God I will be the next Governor of Adamawa state and I will change Adamawa state for the better. Said Otumba
When our correspondent contacted the Director of Media and Communications of Governor Ahmadu, Mr. Solomon Kumangar commend to the allegations raised by Otumba, he described the assertion as laughable and dreaming. Solomon belittle Otumba as a candidate who does not exist in the imagination thoughts of Governor Fintiri.
According to him, Umar is never a candidate to join verbal words with because he does not have the political muscle to face Fintiri.
He recalled how Otumba failed woefully at the APC primaries and can never be regarded as a candidate that Fintiri is contending election with.
"Is Otumba a Gubernatorial candidate? Is never Fintiri's political line opposition because he does not have what it takes to win an election.
"We didn't fight Binani, is he a smaller figure Fintiri will fight? Please I can't waste my time replying to a failure." Solomon said